What is a centrifugal pump?

The centrifugal pump is the most used machine today to pump liquids. They are always rotating and work with a hydraulic mechanism, which transforms the mechanical energy of an impeller into kinetic or pressure energy of an incompressible fluid.
It is a type of device used to transport fluids, such as liquids or gases, by converting the kinetic energy of the motor into flow energy. These pumps work through the use of a rotating impeller that accelerates the fluid, creating a centrifugal force that propels it outwards.
The operation of a centrifugal pump is based on the principle of centrifugal force, which is the force resulting from the centripetal acceleration of the moving fluid. The pump impeller is made up of vanes or vanes that are designed to capture the fluid and accelerate it. As the impeller rotates, the fluid is thrown out, creating a continuous flow through the pump.
These pumps are used in a wide variety of industrial and commercial applications such as drinking water supply, agricultural irrigation, water drainage, chemical pumping, wastewater treatment, air conditioning circulation and many more. . Their versatile and efficient design makes them a popular choice for transporting fluids in a variety of settings.
Centrifugal pumps are characterized by their ability to generate a constant flow and enough pressure to move the fluid through pipes or other conveyance systems. In addition, their compact design, easy maintenance, and ability to handle different types of fluids make them a reliable and widely used solution in various industries.
How to install centrifugal pumps: general guidelines

The pump rotates freely by hand.

The suction valve must be fully open, while the discharge valve must be partially open.

The fixings and electrical connections are correct.

Pipe and pump are full of the liquid to be pumped. Otherwise, it is vitally important to fill it, since the pump can never run dry.

There is sufficient ventilation in the drive.

All rotating parts and surfaces that can reach high temperatures must be protected against contact.
Types of centrifugal pumps from the InoxMIM catalogue

InoxMIM has a department, known as FLUIDMIM, dedicated to the research, innovation and development of pumping systems using the most advanced technology. This department is responsible for selecting the right pump for each transfer, guaranteeing optimum performance at the lowest cost for any given application.
We strive to achieve the best customer satisfaction. This is why we have various centrifugal pump models, allowing us to cater to all the needs of the many existing industrial sectors.
InoxMIM centrifugal pump models

Characterised by its compact size and high performance. Provides flow rates of up to 12 m3 /h with incredible results.
Mainly used for fluid transfer in the food, chemical and oenological industries. Features very streamline engineering that requires virtually no maintenance.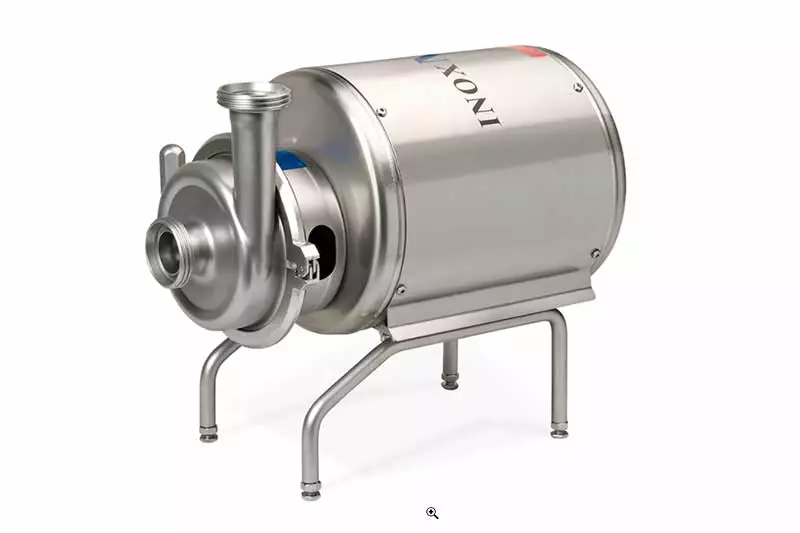 Used mainly in the food, pharmaceutical and cosmetic industries. Their innovative design and finishes facilitate a high degree of sanitation. They feature streamline engineering that requires virtually no maintenance.
Normally used to transfer a variety of products in the chemical, food, pharmaceutical, and cosmetic industries. They have been designed to provide flow rates of up to 100 m3/h, with a high performance and significantly lower consumption rates than previous models. These highly efficient pumps guarantee quality hygiene levels and are very easy to clean.
These have been designed for fluid transfer in the food, chemical and oenological industries, in short, for all facilities or systems where load suction is not possible. Thanks to the standard of the finish and the interior, we guarantee the highest level of constant hygiene, which also eliminates the need for extensive maintenance work.
These are very common within the food, chemical and oenological industry when load suction is not possible. These highly efficient and simple designs guarantee excellent results. Designed to ensure maximum hygiene and facilitate cleaning.
Contact our sales department for detailed information

InoxMIM understands that choosing a centrifugal pump can be somewhat complicated for those who aren't so familiar with the terminology or model applications. If you have any questions about centrifugal pumps, and need a little advice, please contact us. You can do this by sending an email to inoxmim@inoxmim.com, by calling (+34) 972 58 20 40, or by filling in the form that you can find on this website. Remember that part of our job is to listen to our customers. What exactly do you need?